Wishing everyone a Joyful Christmas.
We did it!!! We have officially down sized our home … our new home is a townhouse that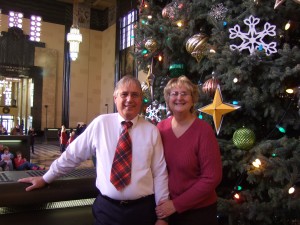 is almost a one story with the kitchen, master bedroom, and laundry room on the first floor.  We moved in on June 25th.  our new address is 2313 N 133rd Cir, Omaha, NE 68164.
Otherwise, not much  has changed.  Camille still works for Bill and Sarah supporting their souvenir business.  Wayne still volunteers  as an AARP Tax-Aide counselor and is now the state training coordinator.  Again he made a couple of trips to the Pine Ridge Reservation with St Andrews Episcopal Church.  Camille leads our involvement with Omaha's Tri-Faith Initiative.
Wayne continues to play bass with the Prairie Rose Ensemble and our big gig is under the Christmas tree at the Durham Museum in Omaha.  The above picture was taken after our performance at the Durham .
There were trips and plenty to keep us busy in 2010 … you can checkout our photo albums at photos.wayneculp.com:
So we hope all our friends have a warm and joyous Christmas season.